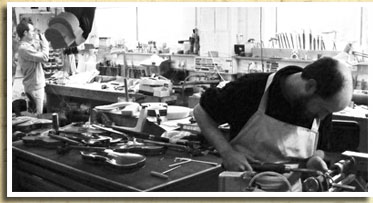 Established since 1972, Jonathan Beecher originally started the business in an 18 foot square Oxfordshire room containing a grand piano and a small performance area for the teaching of his students. It was here that that he began to notice tonal deficiencies in many of his students" instruments and the desire to 'know why' began. The question for him was simple, "What made certain instruments tonally exciting and beautiful while others were really rather poor?"
Over time, instruments in various states of repair or assembly began to appear until a number of them crept onto the piano-top - ergo the studio"s first workbench. It was from here that Jonathan"s eight-and-a-half year journey into sound development and tonal enhancement began.
Initially, he concentrated on children"s instruments as this was the poorest area of performance and quality on the market. As an accomplished cellist in his own right, he had an instinctive feel for where to start, and which parts of an instrument would need adapting. School teachers were quickly amazed at what he achieved, transforming lacklustre and inexpensive instruments into something that children actually enjoyed playing and were a pleasure to listen to.
And so his work continued. Migrating to more sophisticated instruments, he helped a number of players achieve "a larger palette of tonal colour". He attended their concerts, and through these and his own concerto, recital and chamber concerts, Jonathan was given ever-increasing opportunities for the testing of his research through actual live performance.
Now, in 2009, the company"s reputation continues to grow and the business has converted its Old Bakery into a more comprehensive facility. Besides the luthiers" workshops and the shop frontage there is also a new dust free varnish room, a secure vault for valuable instruments and a dedicated music room specially designed to provide the fine acoustics needed for playing and testing instruments.