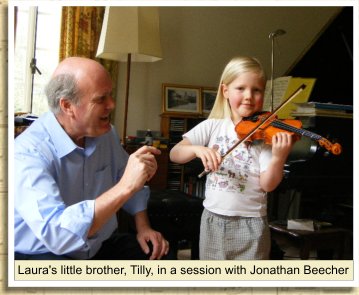 Beecher Acoustics has recently been featured in Ability, the journal of the British Suzuki Institute.
" It's not just teachers and pupils whose lives have been changed by the Suzuki movement. Here luthier Jonathan Beecher talks to Linda Holt about its impact on his life and work.
Our first encounter with Jonathan Beecher was more of a non-encounter. One day in Oxford, intrigued by the ad that is always on this magazine's back cover, we decided to seek out Beecher Acoustics. Tucked away in the by-ways of Oxford's Headington district we found the strings version of the Old Curiosity Shop - only to be told that visits were by appointment only! A few months later I phoned the shop to find out (for a funding application) what a good 1/8th size violin might cost. A friendly conversation with Jonathan Beecher ensued and in due course we arranged to visit Beecher Acoustics. This time his wife Sarah ushered us through the tiny shop, up winding stairs and into a large, dusty workshop, where several luthiers were working on bits of instruments. While we had tea and biscuits at the other end, Jonathan set to work. As my six-year-old daughter Laura played her current pieces, first on her own violin, then on one of his, he checked the sound quality from different points inside and outside the room, and made minute adjustments to the strings, bridge and soundpost with what appeared to be a dentist's speculum. This was about four years ago. Since then we have variously borrowed, rented and bought 1/16th, 1/8th, ¼, ½ and ¾-sized violins from Jonathan, including one which he made for Laura. Each of these instruments has been prepared especially for Laura, to take account of her stage of development as a player, her repertoire, performance needs and her personal preferences. Our initial scepticism has given way to awe as we have heard how Jonathan's magic has improved the resonance, tonal range and projection of Laura's playing to the point where one forgets she is playing a less than full-sized instrument.
LH: When did you first come across Suzuki?
JB: My first real experience was in November 1971 when I heard 12 children from Japan play a concert at the Royal Academy of Music. Aged between 4 and 12, they were all violinists except for one boy who played cello. They performed a brilliant programme from Vivaldi to Mendelssohn. When the 4 year-old children played the solo parts in a Vivaldi double concerto, two older children stood behind them to back up their sound, the co-ordination in the ensemble was impeccable, and everything was played from memory. A 12 year-old girl played the first movement of the Mendelssohn Violin Concerto with a musical authority rarely achieved by English Conservatoire students. As a final encore, three children formed a piano trio playing an arrangement of Brahms' lullaby. It was deeply moving. The audience was stunned!
LH: And the effect on you?
JB: Besides their musical phrasing, I was thrilled by their accurate intonation and the quality of the firm sound that they were able to produce, even the small children on 1/10 size violins. The concert catapulted me into realising two things. First, how essential high-quality musical training was - which is of course what all the teachers who have been inspired to follow Suzuki's approach also realise. Second, that the fantastic music-making I had heard would not have been possible on the poorly-organised instruments commonly given to children. It was clear to me that part of the secret behind these children's beautiful tone was having responsive instruments from the very start.
LH: Are you saying the Japanese children had special instruments, what I've heard called "Suzuki violins"?
JB: I imagine the children did have Suzuki violins - after all Shinichi Suzuki's father Masakichi Suzuki was a self-taught violin engineer who pioneered techniques in the mass production of quality violins and opened Japan's first violin factory in 1899. And his company has a long tradition of producing what they call educational violins for children - both father and son knew beginners needed affordable high-quality violins that were appropriately sized and easy to play. Shinichi spent his childhood working at his father's factory, putting up violin soundposts. I'm sure he had the technical knowledge to make sure that the instruments his pupils played in London were expertly set-up and adjusted for the individual children - they weren't just taken willy-nilly off the peg. It isn't surprising that the emphasis Suzuki placed on producing a beautiful tone extended to the instruments themselves.
LH: How did Suzuki inspire your own work?
JB: Well, as a cellist with an interest in the technical side of sound production I had already started to explore what made stringed instruments tick - why one could sound lovely and another very poor. The journey, in which I dismantled and examined countless instruments, took eight and a half years. The first fruit of this research was directed to improving the response and tone quality of children's instruments. Because I had heard the beautiful tone produced by Suzuki's students on reduced-sized instruments at that concert in London, I knew it was possible.
LH: What was the response to your work?
JB: The children were obviously happier that their instruments could produce more beautiful tones and the teachers got quite excited too. In fact they could even be a little put out when a child's factory-made instrument which I had specially prepared ended up sounding better than their own hand-made German instruments! We gradually moved into working on full-sized instruments for students and professional musicians, but children's instruments have remained a strong part of our work.
LH: What would you say you share with the Suzuki philosophy?
JB: Like Suzuki, I don't think the point of children learning an instrument is to produce a world of professional instrumentalists. Rather the point is to open a world of beauty to young children everywhere so that they might have greater enjoyment in their lives through music. Suzuki challenges the belief that young children or beginners or the less than super-gifted can make do with any old teaching - or any old instrument. I share Suzuki's conviction that with the right nurture, to use his word, every child has the ability to play beautifully. That nurture includes many things - love, respect, skilled teaching, parental support - and it also extends to the child's instrument. Everyone should have the chance of playing genuinely responsive and tuneful instruments from the very start. This is essential if a child's instinctive musical expressiveness is to develop as freely as possible.
LH: How do you make an instrument more responsive?
JB: Well, there are a number of critical issues - the design and position of the base bar inside the body, the lightness and resonance of the wood, the ratio of string length to body length. Then an instrument's stability - how well it stays in tune - also depends on how well the pegs fit, the quality of the strings and how the sound post has been set. The height of the strings, bridge shape and fitting, and fingerboard width determine how easily and effectively separate strings can be pressed down, which is absolutely crucial for little fingers. But responsiveness is also all about the individual player. So I adjust all these things for each individual - their age, level, repertoire, personal voice or style, even where they are going to perform. This is why I have to hear my customers play, and why we've just extended our premises to include an acoustically balanced studio specially designed to have no exaggerated resonances in any pitches. There is nothing more satisfying than seeing someone's joy when they realise their violin or cello is singing with new life and colour.
LH: I heard a four-year-old customer called you a magician the other day because you made her little violin sing as never before.
JB: Oh well - I think she just got the words for musician and magician muddled up!
LH: Thank you very much. "
"The BSI would like to extend their gratitude to Beecher Acoustics who have supported this magazine for many years as a valued advertiser. Further details and contact information can be found at www.beecheracoustics.com"

back to all