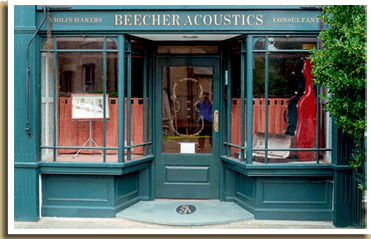 Our 19th century shop in Oxford is the centre of our operations. In the modern workshop behind, our skilled team of expert craftsmen work meticulously and lovingly on all instruments of the violin family. We have a dedicated music room where Jonathan Beecher consults directly with players, helping them to realise the full potential of their instruments.
If you are looking to try or buy an instrument or want to enhance or restore an existing one, then please contact us. Rest assured we will make every effort to exceed your expectations.
The Old Bakery (see map)
1 Quarry High Street
Headington
Oxford OX3 8JT
U.K.
(T) +44 (0)1865 762287
(F) +44 (0)1865 767954